The Office Fitout Guide / Process
An office fitout or office refurbishment can be a daunting task for any business, large or small. There are a number of factors to consider and the process can seem overwhelming. However, by following a few simple steps, you can ensure that your office fitout goes smoothly and is completed on time and within budget. Things to consider before you lease an office
Timing
Make sure you give yourself sufficient time to look for your new office space. This will allow you to inspect more offices and get a better leasing deal, and give the design and construction team time to research, plan and complete the job on time.
Generally, when there is not enough time, the construction team has to rush the build and work overtime increasing the risk of mistakes and increasing the cost of the fitout.
Define Your Needs
The first step in any office fitout or refurbishment is to define your needs.
What do you need the office for?
How many people will be using it?
What kind of equipment and furniture will you need?
Do you need a reception, customer waiting area, or kitchen?
By defining your needs, you can start to narrow down your options and make the office fitout process simpler.
Draw Up A Budget
Office fitouts can be costly, so it is important to have a clear idea of your budget before you start and communicate that. You can use this budget to guide the conversations with the designers and construction team so they can do their best to come up with a solution that suits the budget. Being open and clear about your budget from the outset will ensure that all parties are working to the same number and will save you time in any design revisions and value management.
Finding The Right Office Space To Lease
Once you know what you need from your office, you can start looking for the right office space to lease. It is important to find an office that meets your needs in terms of size, location, and price.
You should also take into consideration the state of the office if it is a cold shell or a warm shell, as it will change how much it will cost to fit out.
Once you have found a few potential options, it is important to get expert advice to help you make the best decision for your business. Landlords often have incentives that can go towards your fitout and/or lease to make sure you explore those options in your negotiations.
We offer services to help you find the right office and negotiate the best deal for you. Get in contact with us here for more information.
Office Design
Once you have found the perfect office to lease, the next step is to start the office fitout process which starts with design. Important things to consider are below.
Interior Design
The first step is to come up with a design for your office. This will involve creating a floor plan and deciding on the layout of the office.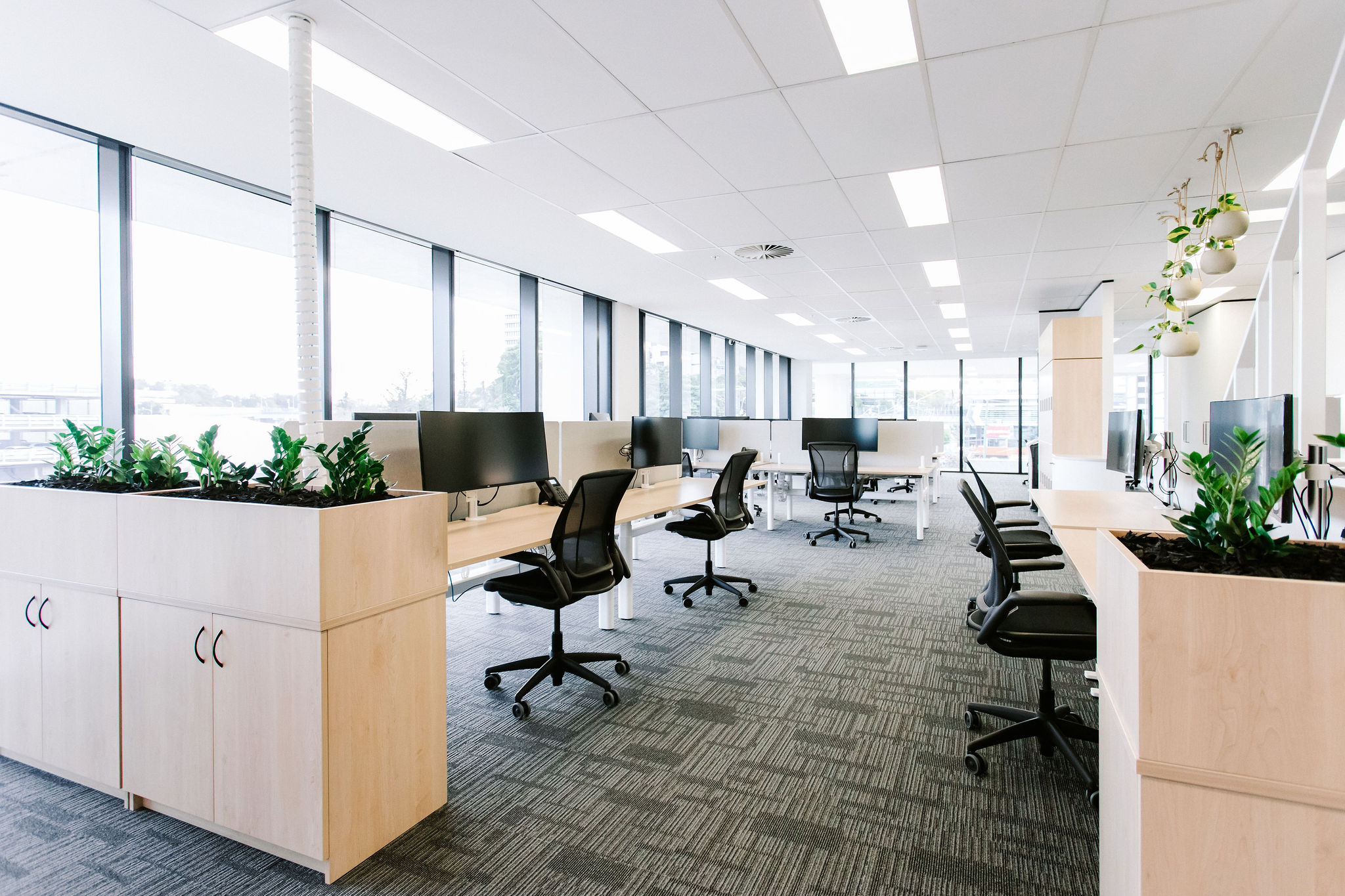 Furniture
The next step is to choose the furniture for your office. This includes desks, chairs, filing cabinets, and storage solutions.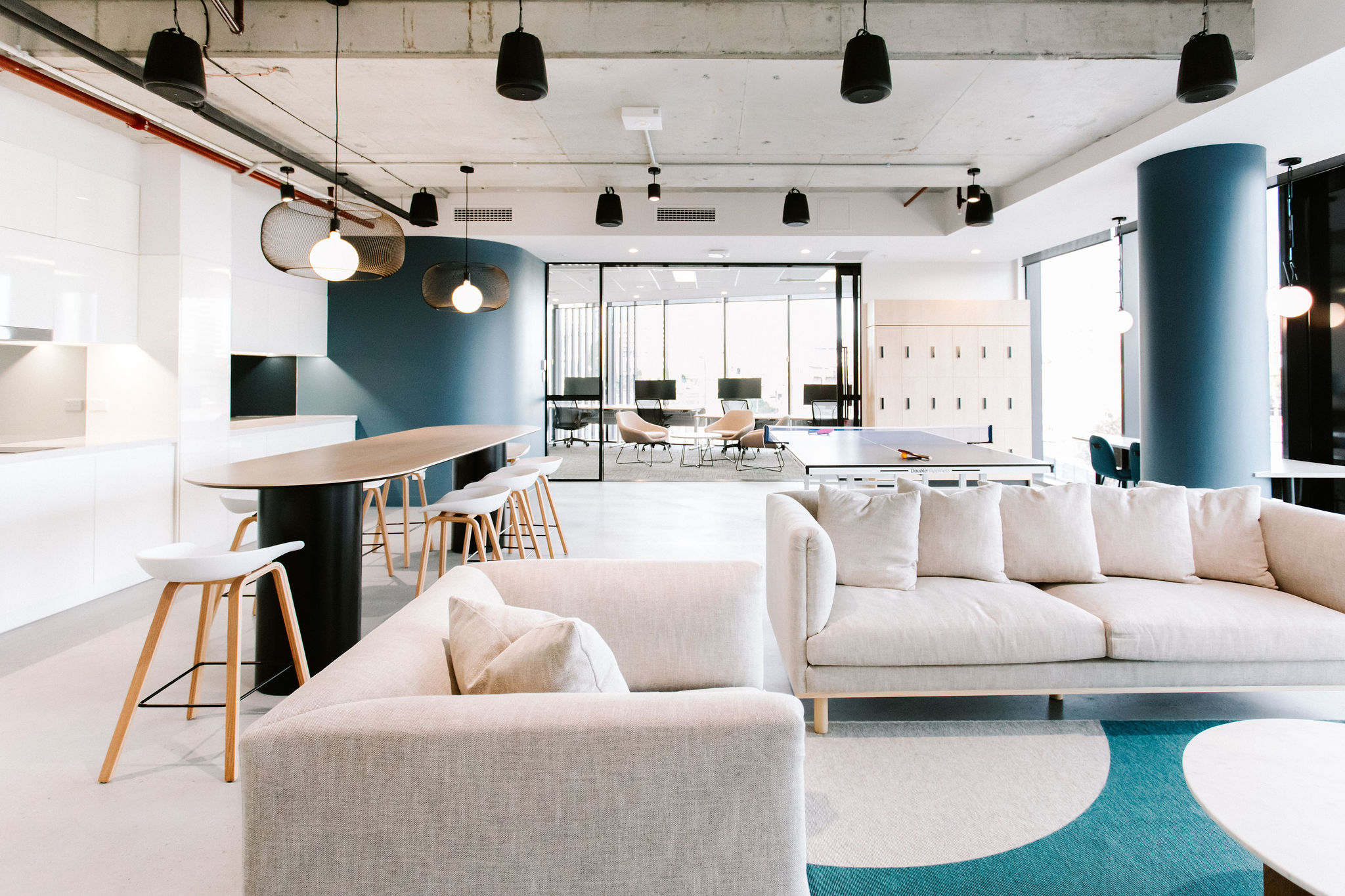 Equipment
The next step is to choose the equipment for your office. This includes computers, printers, phones and any other office equipment you may need.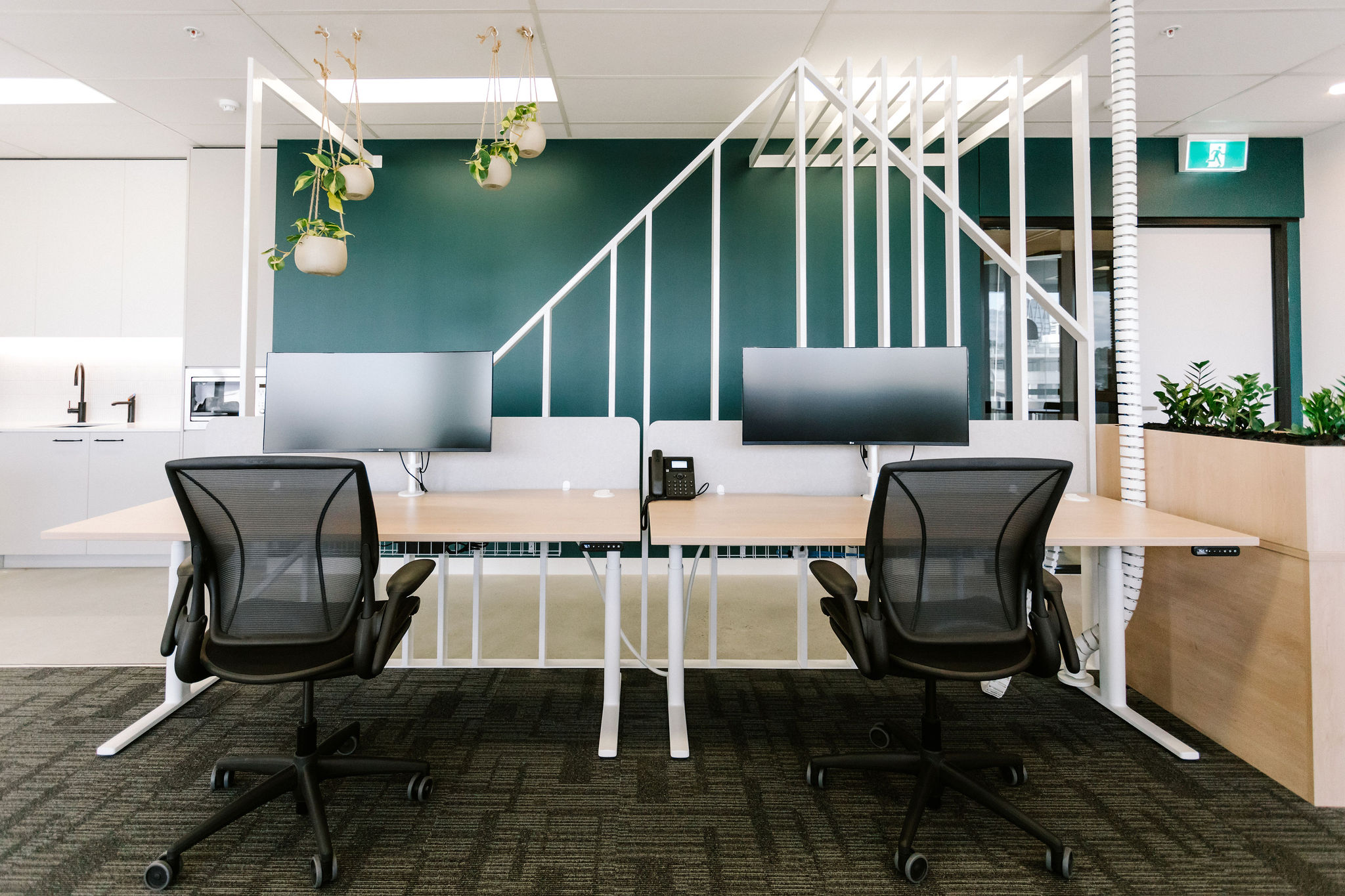 Decor
The final step is to add the finishing touches to your office. This includes painting, hanging pictures, and adding plants or other decorations.
Our award-winning, industry-leading interior designers can help you with this step, contact us here.
Choose A Contractor
Once you know what you need, the next step is to find a reputable office fitout contractor. It is important to know what services you are looking for in a fitout company so you can filter out the ones that are not suitable.
Fit-out companies have extensive experience in managing all the third parties, and the approval process which can result in cost savings and more accurate timeline management and budgeting.
Some companies offer an end-to-end service, including design, construction and project management, whereas others just offer the build and management.
An end-to-end fitout company is generally the best option, as they handle the design, construction and tradespersons management which reduces your responsibilities, so you can focus on what's important, running your business.
Another service to keep in mind is if they offer "Make Good" and de-fits for your current office if it is required.
At TACTIC we provide an end-to-end solution making your move as seamless as possible. Contact us for a complimentary chat here.
Prepare For Disruptions
An office fitout or refurbishment will inevitably cause some disruptions to your business. Plan ahead and try to minimise disruptions as much as possible. Let your employees know about the office fitout in advance and make arrangements for them to work from home or another location if necessary.
Follow-Up After The Project
Once the office fitout is complete, take some time to follow up with your contractor. Make sure that you are happy with the results and that everything has been completed to your satisfaction. Office fitouts can be a big investment, so it is important to make sure that you are happy with the final product.
Conclusion
An office fitout can be a big project, but with the right planning and execution, it can be a great way to improve your office space and make it more functional for your business.
Consider using an end-to-end agency that can provide the leasing, design and construction of the fitout as they generally deliver better and faster results.
TACTIC's End-to-End Service
TACTIC is committed to connecting businesses and their people with their perfect space. We offer an end-to-end service so we can support our tenants throughout their whole office leasing journey.
We have pioneered our innovative Direct-To-Trade process, designed to deliver more accurate pricing, more time-efficient trade scheduling, and reduced variation potential.
This has led to us producing stunning market-leading spaces, we have delivered projects early, and have even returned money to clients due to the cost efficiencies.
Below is an example of the traditional method of a tenant using a leasing agent, and then finding a designer, fitout company, and managing all the third-party contractors vs our Direct-To-Trade approach.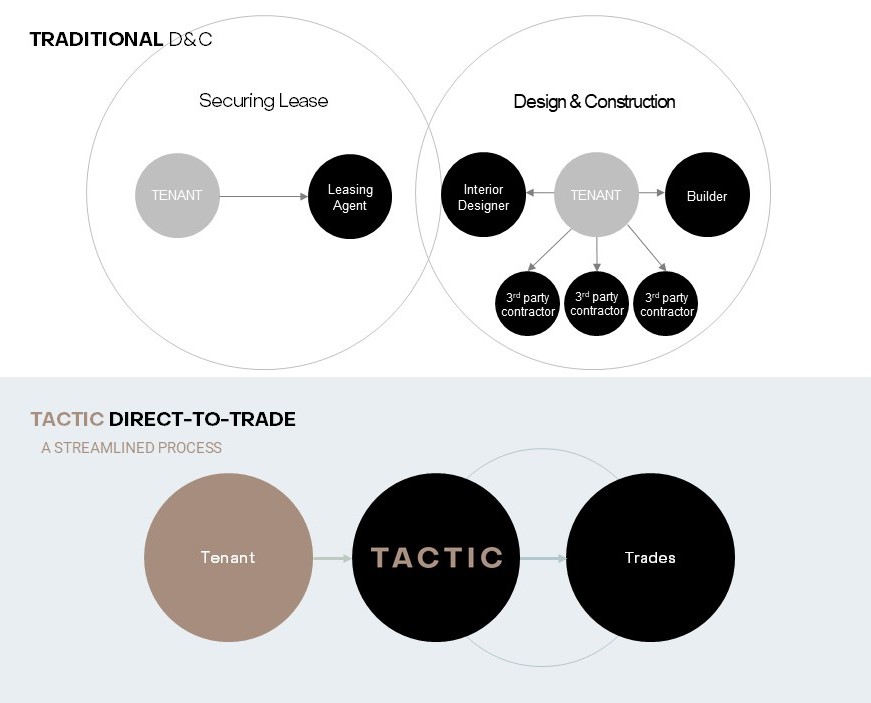 Our Most Recent Project
With 22 active projects and collaborations with big-name brands such as REA Group, Elders, Stefan Hair and ASICS, the reception for our offering has been incredible (as of November 2022). This has affirmed the value-add clients see in our efficient Direct-To-Trade process and FOMO office design philosophy.
Watch how we built Mortgage Choice's office here.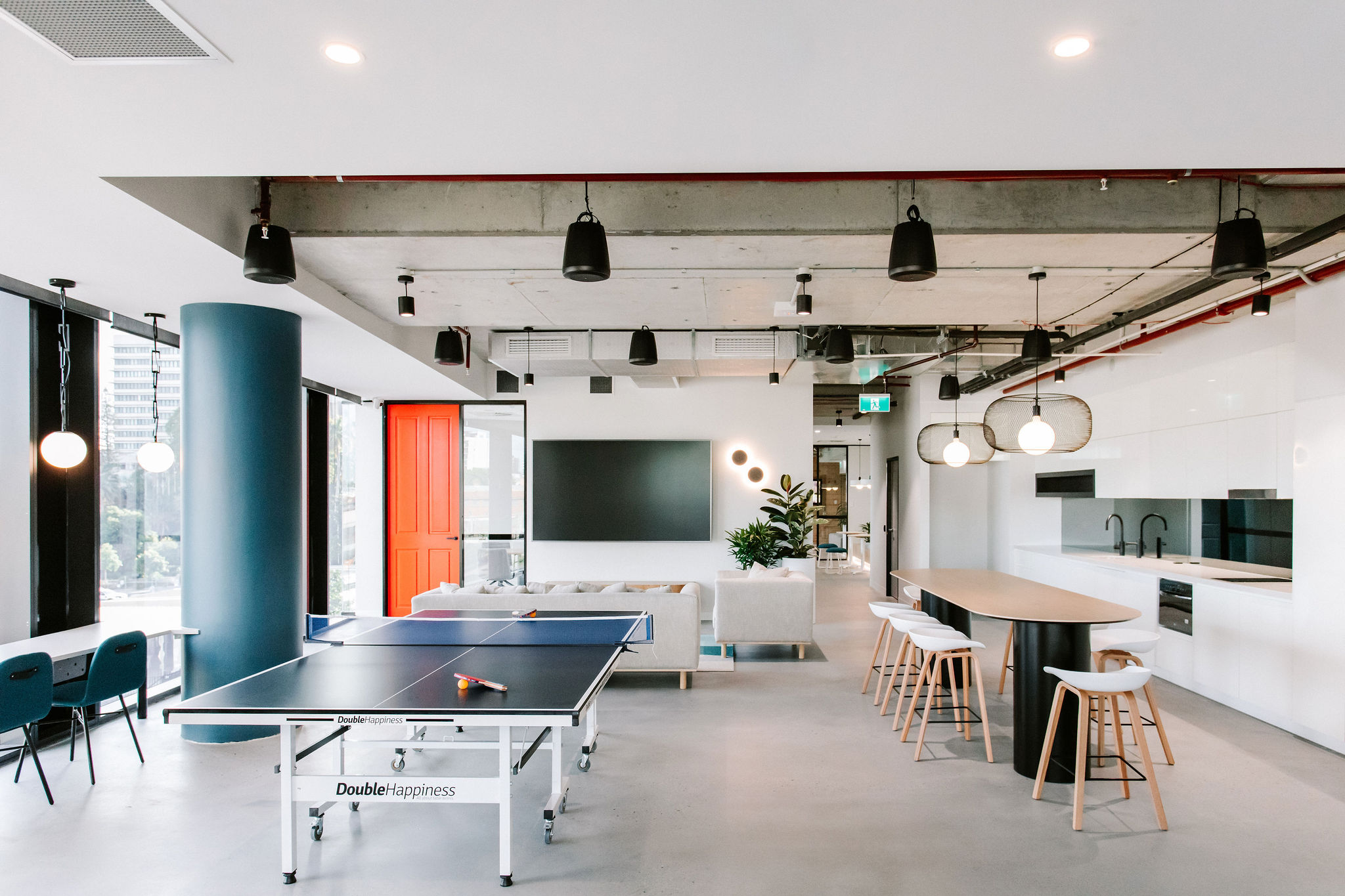 Your Next Step!
If you need help with finding office space, planning your office design, or fitting out your office our team at TACTIC can help. Contact us for a complimentary consultation here.