Modern Meeting Room Design
Have you ever walked into a meeting room and immediately felt uninspired? Have you found yourself struggling to collaborate effectively with your team during meetings? If so, you're not alone. Many professionals face these challenges on a daily basis, but the good news is that there are solutions. One of the most effective ways to enhance collaboration and creativity during meetings is through a modern meeting room design.
However, there is a delicate balance between functionality and aesthetics that needs to be struck. On one hand, the meeting room needs to provide the necessary tools and technology for efficient communication and productivity. On the other hand, it should also be visually appealing and conducive to creative thinking.
In recent years, the rise of huddle rooms has been a game-changer in office design. These smaller, intimate spaces allow for greater focus and collaboration, and they come with their own unique set of design considerations.
But what about the furniture and layout within the meeting room itself? The right choices can go a long way in creating a collaborative environment, from modular seating arrangements to whiteboard walls.
Of course, technology integration is another key component of modern meeting room design. From video conferencing systems to wireless connectivity, the right tech can enhance efficiency and productivity in a big way.
Acoustic solutions are also important to consider, especially in open-plan offices where noise and distractions can easily derail a meeting.
So what does the future of meeting room design look like? From virtual reality to smart furniture, emerging trends and technologies are set to revolutionize the way we approach workplace collaboration.
In this article, we'll explore all of these topics and more, providing you with actionable insights to elevate your meeting room design and enhance collaboration and creativity in your workplace.
Functionality vs Aesthetics: Striking The Perfect Balance
When it comes to designing meeting rooms, there can often be a debate between functionality and aesthetics. While having a visually appealing space is important, it should not come at the expense of practicality. Here's why striking a balance between functionality and aesthetics is crucial for effective meeting spaces:
Functionality Should Not Be Sacrificed For Aesthetics
While it may be tempting to prioritize aesthetics in meeting room design, it's important to remember that the purpose of the space is to facilitate productive meetings. If the room isn't functional, even the most beautiful design won't make up for it. Ensure that your meeting room has all the necessary equipment such as whiteboards, audio-visual capabilities and comfortable seating arrangements.
Aesthetics Contribute To An Effective Meeting Environment
That being said, aesthetics can play an important role in creating a conducive environment for productive meetings. A well-designed space can help attendees feel more comfortable and engaged which can lead to more creative ideas and better decision-making.
Tips On Striking The Perfect Balance In Your Meeting Room Design
To create an effective meeting space that strikes the perfect balance between functionality and aesthetics, consider the following tips:
Start with function: Determine what equipment and tools you will need in your meeting room first. This will help ensure that the space is practical and functional, while also allowing you to plan the layout and design around these needs.
Consider the users: Think about who will be using the space and what their needs are. For example, if your meetings involve a lot of brainstorming or collaboration, you may want to include whiteboards or other tools to facilitate this type of work.
Keep it simple: While a visually appealing space can be inspiring, don't overdo it with too many decorative elements. Stick to a simple colour scheme and design that won't distract from the purpose of the room.
Let in natural light: Natural light can help create a more inviting atmosphere while also improving productivity. If possible, design your meeting room with large windows or other sources of natural light.
Addressing acoustics: Acoustics can make or break the useability of a meeting room. Where possible use sound masking technology and acoustic panels to address excessive noise levels, echoes, and poor speech intelligibility. We cover more on this later in the blog.
By following these tips and keeping functionality at the forefront of your design process, you can create an effective meeting space that is both functional and visually appealing.
The Rise Of The Huddle Room: Benefits And Design Considerations
Huddle rooms are small, informal meeting spaces that have become increasingly popular in modern office design. These rooms are typically designed for quick, impromptu meetings and discussions between small groups of people. The benefits of huddle rooms are numerous, including increased collaboration, improved productivity and enhanced creativity.
Best Practices For Designing Huddle Rooms
When designing a huddle room, it's important to keep the space flexible and adaptable. Consider using movable furniture or wall partitions to create a space that can be easily reconfigured as needed. It's also essential to ensure that the room is equipped with the necessary technology to support collaboration and communication, such as video conferencing equipment, whiteboards or digital displays.
One successful example of a huddle room design is the "war room" concept used by Agile development teams. These rooms are designed to facilitate collaboration and communication among team members by providing a dedicated space for problem-solving and decision-making. They typically feature large screens for displaying project information, whiteboards for brainstorming and plenty of comfortable seating.
Overall, huddle rooms are an excellent addition to any office space looking to improve collaboration and productivity. By designing a space that is flexible, adaptable and equipped with the necessary technology, teams can quickly come together to discuss ideas, solve problems and make decisions.
Creating A Collaborative Environment: Furniture And Layout Ideas
When selecting furniture for your meeting rooms, it's essential to keep in mind the needs of your team. You want to ensure that your furniture encourages collaboration and allows for easy movement and interaction. Providing an optimal view of screens or presentations for every individual is crucial in maintaining engagement and facilitating effective communication.
Creating an effective layout is also crucial in promoting collaboration during meetings. The layout should be designed to encourage face-to-face communication and eye contact between team members and every individual should have an optimal view of any screens or presentation areas. It's important to avoid layouts that promote hierarchy or isolate certain team members such as a traditional boardroom setup: In this layout, a long rectangular table is surrounded by chairs, with the most important person (e.g., the CEO or manager) seated at the head of the table. This arrangement inherently assigns greater importance to those seated at the ends, particularly the head of the table, while others may feel less valued.
Innovative ideas for meeting room furniture and layouts can help create modern and collaborative workspaces. For example, adjustable height tables allow teams to switch between sitting and standing positions during meetings, promoting movement and engagement. Another idea is to incorporate circular seating arrangements that provide an equal footing for everyone in the room and promote open communication. To ensure that everyone has an optimal view of screens or presentations, consider using mobile or swivel-mounted screens which can be easily adjusted to accommodate various seating arrangements. This way, all participants can comfortably see the presented materials and contribute to the discussion effectively.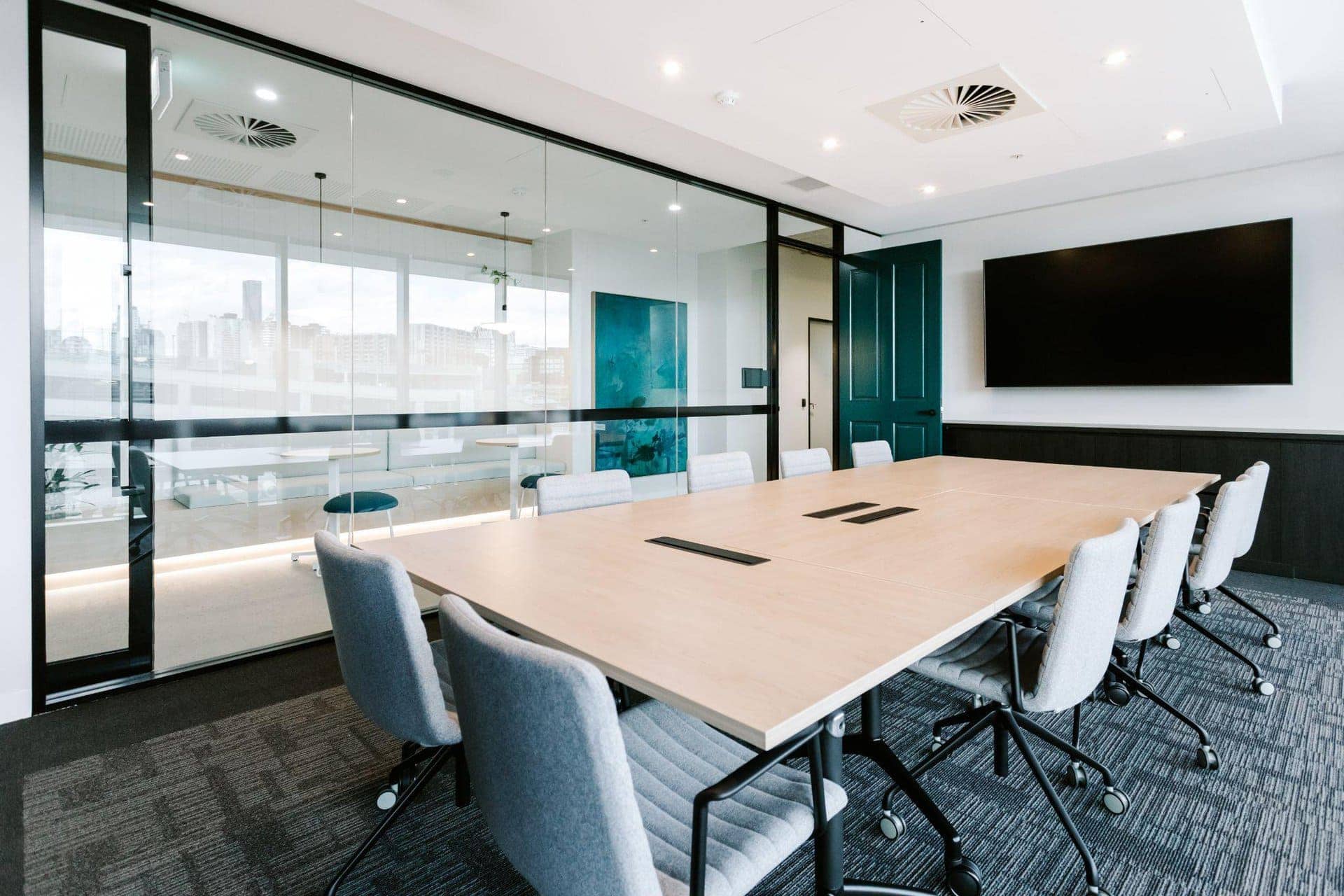 Technology Integration: Enhancing Meeting Efficiency And Productivity
Technology is transforming meetings with emerging technologies such as wireless presentation systems, video conferencing software, and interactive whiteboards that facilitate seamless collaboration both in-person and remotely. Integrating technology into conference room designs can improve productivity and efficiency, such as wireless presentation systems that eliminate cables and video conferencing that reduces travel costs.
Tips On Integrating Technology Effectively Into Your Meeting Room Designs
For your conference room setup, choose user-friendly and reliable technologies that meet meeting needs, provide clear instructions and technical support, test the technology beforehand, and place interactive tools where all attendees can view and interact with them. By following these steps, technology can enhance productivity and efficiency in meetings.
Acoustic Solutions: Overcoming Noise And Distractions
As anyone who has ever sat through a meeting knows, noise and distractions can seriously hinder productivity. In today's modern office spaces, where open floor plans and glass walls are becoming increasingly popular, acoustic issues have become a major concern for businesses looking to create effective meeting spaces. Here are some common acoustic issues that can hinder productive meetings and some innovative solutions for addressing them:
Common Acoustic Issues That Can Hinder Productive Meetings
Some of the most common acoustic issues include excessive noise levels, echoes, and poor speech intelligibility. These problems can make it difficult to hear and understand what others are saying, leading to frustration and decreased productivity.
Innovative Solutions For Addressing Acoustic Problems In Modern Meeting Spaces
Fortunately, there are several innovative solutions available for addressing these issues. One such solution is sound masking technology, which uses low-level background noise to reduce the impact of distracting noises. Another option is the use of acoustic panels, which absorb sound waves and reduce echoes in the room.
In our fitout for REA Group, we used innovative ways to utilise sound-absorbing materials such as acoustic lampshades and acoustic material on walls. You can watch our full video on the design and fitout here.
The Future Of Meeting Room Design: Emerging Trends And Technologies
As workplace technology continues to evolve, so do meeting room designs. The future holds exciting changes and advancements that will transform the way we collaborate and communicate in professional settings. Here are some emerging trends and technologies driving the evolution of meeting room designs:
Flexible Spaces
Gone are the days of rigidly structured meeting rooms. Increasingly, companies are opting for customizable spaces that can be rearranged to suit different purposes. This means incorporating movable walls, furniture, and technology that can be easily adjusted to fit a variety of needs.
Smart Technology
The rise of smart technology has already had a significant impact on meeting room designs, with features like wireless presentation systems, digital whiteboards, and voice-activated controls becoming more common. In the future, we can expect even more advanced technologies such as augmented reality and virtual assistants to become integrated into meeting rooms.
Sustainability
Sustainability is becoming an increasingly important consideration in all aspects of office design, including meeting rooms. Expect to see eco-friendly materials and energy-efficient technology being incorporated into these spaces.
By embracing emerging trends and technologies, considering sustainability, and staying up-to-date with industry news, businesses can create meeting rooms that are both functional and innovative. The future of conference room design is exciting – don't miss out on the opportunities it presents!
Modern Meeting Room Design Conclusion
Modern meeting room designs are crucial for enhancing collaboration and creativity in the workplace. By striking the perfect balance between functionality and aesthetics, embracing flexible spaces like huddle rooms, and addressing challenges such as acoustic issues and technology integration, you can create a more productive and engaging environment for your team.
As you've seen in this article, there are numerous ideas and suggestions to help you transform your meeting spaces. Now is the time to take action and implement these tips in your office setting. Don't hesitate to experiment and adapt to find the perfect combination that meets your team's needs.
Take the first step towards designing your perfect office by reaching out to our team at TACTIC for expert design and project management services here.
If you are interested in watching the process of designing and fitting out an office, check out our spec fitout for 200 creek street here.