Brisbane: A Future Formula One Destination?
The recent Formula One Grand Prix in Melbourne recorded a staggering attendance of over 444,000 people, showcasing Australia's fervour for the thrilling motorsport. With a growing number of enthusiastic fans keen to see a Formula One event in Brisbane, speculation and excitement are rising.
Brisbane is no stranger to high-profile international events. Over the next decade, the city is poised to host several significant events, including the 2032 Olympic Games, the FIFA Women's World Cup 2023, and the Rugby World Cup 2027. Add to this, the city's recurring events such as the World Science Festival and the Brisbane truck show – the second-largest trucking convention globally – and it is clear that Brisbane is primed for further international exposure.
However, it is important to note that some city residents voice concerns about these events, believing they are financially wasteful and disruptive. In this Talking Tactics video we aim to shed light on the myriad benefits that these major events bring to the city and how Brisbane will gain from hosting them.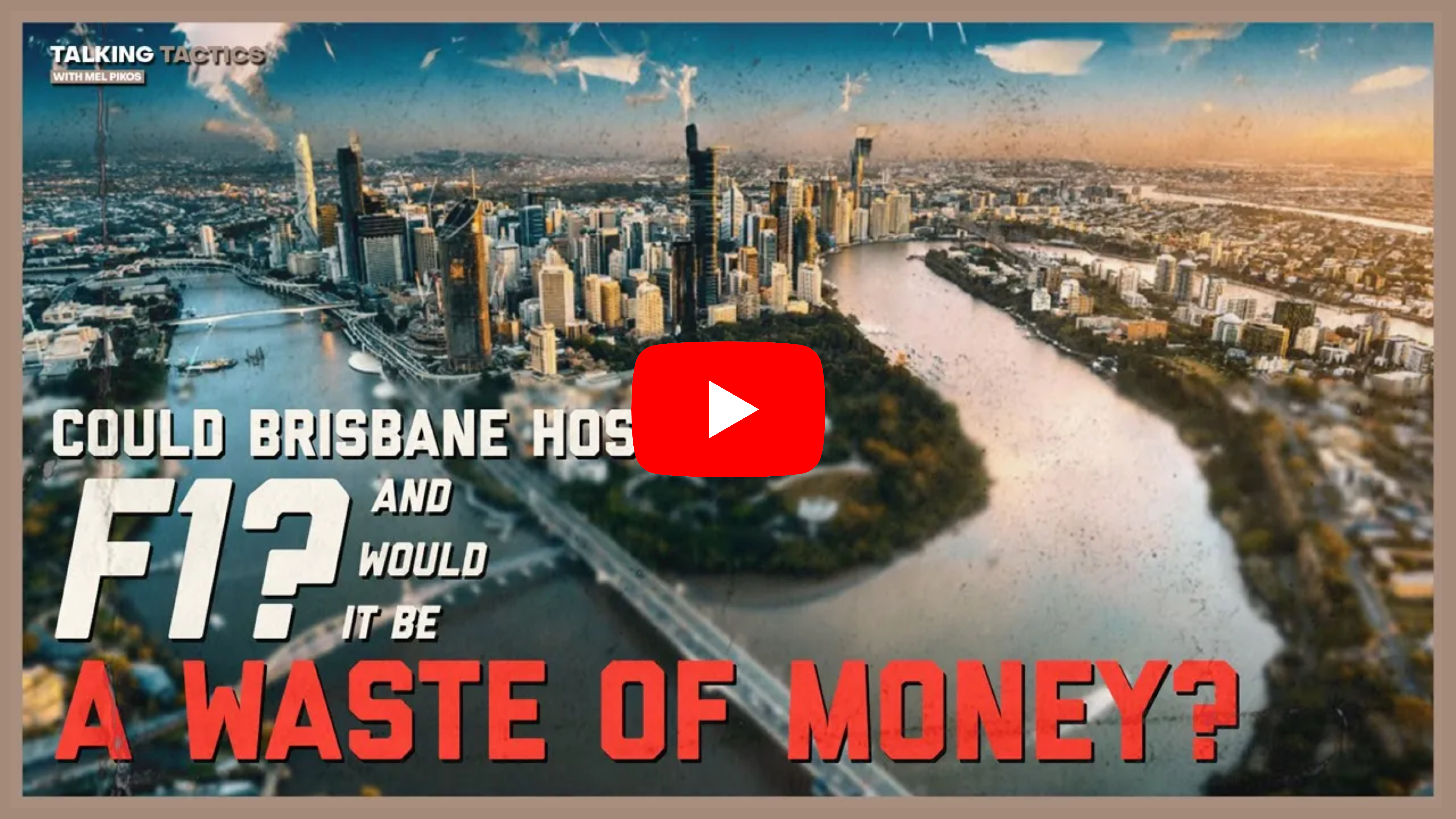 Notoriety and Investment in Infrastructure
One of the primary benefits of hosting large-scale events is the notoriety they bring. When Brisbane was announced as the host city for the 2032 Olympics, there was a tremendous spike in Google searches for the city. This not only boosts tourism but also garners business and investment opportunities. 
Anthony Ryan, CEO of the Brisbane Economic Development Agency, is a strong proponent of this viewpoint. "When Brisbane was announced as the Olympics city, Google hits on Brisbane increased overnight by over 1,000%, creating further interest in our business opportunities and investment prospects," Ryan shared.
To understand more about Brisbane's future prospects and the impact of these events, visit our article on 9 future developments here.
Infrastructural Developments: Queens Wharf and Brisbane Live
Another substantial benefit of hosting such events is the investment in the city's infrastructure. Significant projects such as the Queen's Wharf and the new Brisbane Live arena, coupled with improvements to the transport network, will transform Brisbane's landscape. Ryan believes these developments will have a profound impact, similar to how Marina Bay Sands boosted Singapore's economic growth and international profile.
He also highlighted the benefits of the new Brisbane Live facility, stating that it would enhance the city's hotel and restaurant scene, boosting the city's overall tourism economy. He noted that "it will work in unison with the Suncorp and the Gabba stadiums to hit that perfect number that, at this stage, we aren't able to cater for as well as what we would hope for as a city."
Historical Transformations: Expo 88
Looking back, one event that undoubtedly changed the face of Brisbane was Expo 88. Before the Expo, the Southbank area comprised mostly light industrial buildings and boarding houses. However, the significant redevelopment to accommodate the Expo transformed the entire area, birthing the much-loved Southbank Parklands.
Tourism: A Major Benefit
Hosting major events also gives a significant boost to tourism, as they attract interstate and international visitors. Ryan is optimistic about the ripple effects of this boost. "All these extraordinary precincts that have emerged, such as Queen's Wharf, James Street, Southbank, Queen Street Mall, everyone takes a significant uplift in their revenue during that time," he said.
According to Ryan, the positive impact is not limited to the economic domain. These events also create an atmosphere of fun and energy, enriching the experience for residents and visitors alike.
Brisbane: A Top 50 Destination
Recognised by Time magazine as one of the top 50 hottest destinations in the world, Brisbane is undoubtedly making its mark. Its strategic investments in infrastructure, coupled with its ability to host world-class events, have undeniably placed Brisbane on the global stage. But amidst these recognitions and achievements, the question arises: Could Brisbane host a Formula One Grand Prix in the future?
Formula One in Brisbane: A Possibility?
The potential for Brisbane to host a Formula One Grand Prix remains a tantalizing prospect. After all, Melbourne has shown how successful such an event can be in Australia, both financially and as a showcase for the city on a global stage.
There's no doubt that staging a Formula One race requires significant infrastructure and resources. However, Brisbane's commitment to significant infrastructure projects and its demonstrated ability to host large-scale international events suggest that it could be well-positioned to rise to this challenge.
Moreover, Formula One has shown its willingness to diversify and expand its racing calendar, and a second race in Australia could be an appealing proposition. With the country's evident passion for the sport and Brisbane's ambition to further establish itself as an international events hub, a Brisbane Grand Prix doesn't seem too far-fetched.