How To Reduce Your Office Fitout Costs
How To Reduce Your Office Fitout Costs
Office fitouts can be a significant expense for businesses, however, there are ways to save money without sacrificing quality or functionality. By being smart about planning in advance, and working with a reputable company, businesses can save thousands of dollars on office renovations. Here are some tips on how you can save money on your next office fitout.
Start Your New Office Search Early
Give yourself plenty of time for the office leasing, design and fitout process to ensure that you can evaluate all your options, negotiate the best deals and meet your move-in deadline comfortably. Generally, there will be delays in the process and in the end, it's the fitout team that ends up having to rush. This can result in expensive overtime hours and in some cases, delayed move-in dates and extra rent expenses.
Define Your Needs & Think About Design When Choosing Your Office.
Before you decide on which office you will lease, it's always good to reverse-engineer the process.
What design do you want for your business?
What equipment and furniture do you need for your employees?
Do you need a kitchen, reception, or customer waiting room?
Having these things in mind when searching for and inspecting offices will allow you to choose an office that will need the least amount of construction to achieve your desired design.
Hire A Professional
Knowing the ins and outs of leasing an office and being an expert in the market can be nearly impossible while running your own business. Engaging with a leasing agent can save you a ton of time, money and headaches!
Leasing an office
A tenant representative will work with you to understand what your business needs, find and present offices that suit those requirements and negotiate the best deal for you. They can negotiate fitout incentives to make reduce your upfront costs.
Design and construction
Design and construction companies offer both design and construction services, as well as project management for your office build. This streamlined approach often results in time and cost efficiencies, as all aspects of the project are managed by a single company.
TACTIC's Direct-To-Trade Approach
At TACTIC, we pride ourselves on delivering exceptional office fitouts that exceed our client's expectations. Our innovative Direct-To-Trade process ensures that our clients receive accurate pricing, efficient trade scheduling, and reduced variation potential. This has allowed us to produce market-leading spaces that are both stunning and functional. In fact, we've been able to deliver projects early and return money to clients due to our cost efficiencies.
We understand that the traditional process of leasing and fitting out an office can be complicated and time-consuming. That's why we offer an end-to-end service that simplifies the process and ensures that everything is taken care of. Our approach eliminates the need for multiple contractors and ensures that every aspect of the fitout is managed efficiently and effectively.
To learn more about how we can help you create a dynamic and inspiring office space that meets your business needs, please contact us for a complimentary consultation.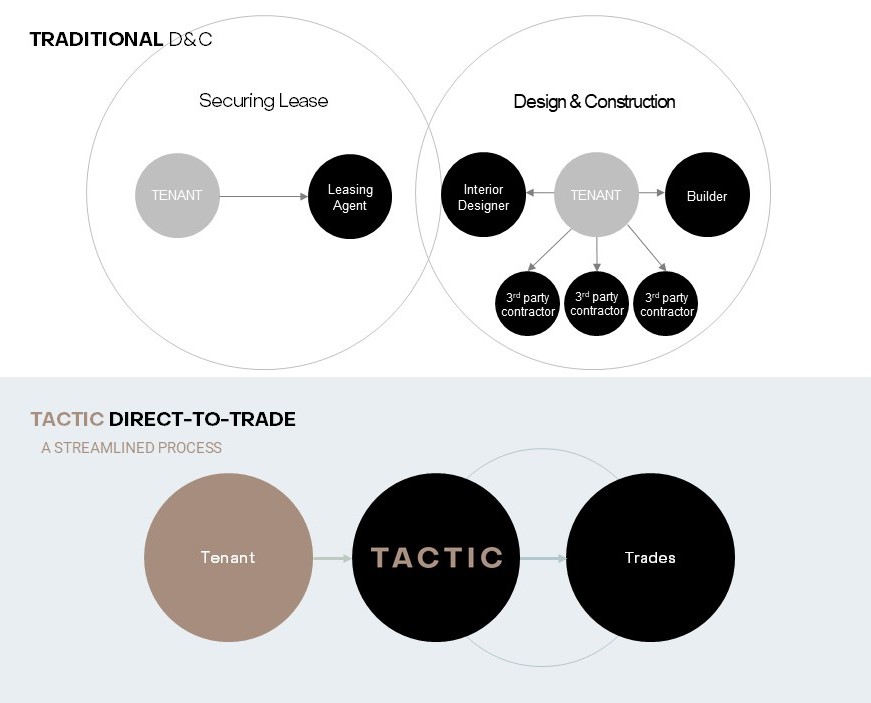 Design

Have an open-plan office layout where possible
If possible, consider adopting an open-plan office layout for your fitout. This layout typically requires fewer internal walls and partitions, which can help reduce material and labour costs. Additionally, an open office working environment can encourage communication, collaboration, and innovation among your employees. By eliminating physical barriers, you can create a more inclusive and cohesive workplace culture that fosters creativity and productivity. However, it's important to note that an open-plan office may not be suitable for all businesses or industries, and it's important to carefully consider the needs of your employees and business before making any layout decisions.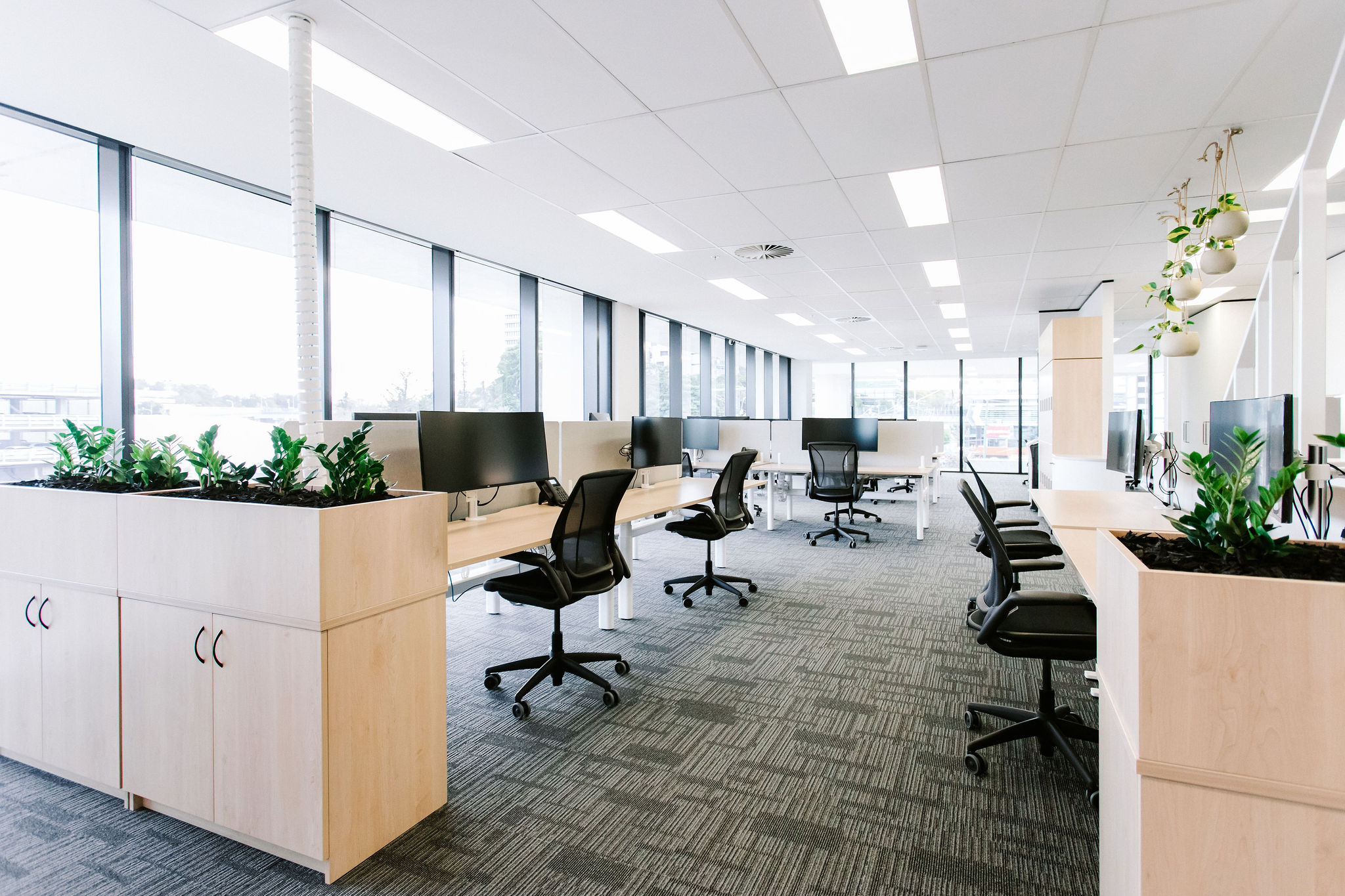 Having an exposed ceiling
When planning your office fitout, consider whether an exposed ceiling is a viable option for your space. Depending on the type and quality of your building, opting for an exposed ceiling instead of a suspended ceiling with tiles can offer a range of benefits. Not only can it add a modern and industrial feel to the space, but it can also save you money on materials and installation costs. Additionally, an exposed ceiling can provide greater height and a more open feel to the space, which can be especially beneficial in smaller offices. Be sure to consult with your construction team and building management to determine if an exposed ceiling is a viable option for your specific situation.
Have an idea of what you want before engaging with a designer
The design process can be quite tedious and time-consuming, especially if there are multiple people providing their input separately. Make sure you communicate with the key people in your business and agree on the basic design of the office so there is limited back and forth with the designer. Generally, when there are multiple people changing the designs, it can eat into the fitout time which leads to overtime and delays.
Be open and upfront about your budget
Your design and construction team will decide which design and materials to use to fit within your budget. Give them what you are willing to pay, so they can work backwards because making changes further down the track will cost more. Additionally, depending on how accurate your planning is, it's always best to have a 10% contingency sum in your budget for unknown costs.
Get creative with storage solutions
When it comes to storage solutions for your office, getting creative can help you make the most of the available space. Consider using vertical space by installing shelving or wall-mounted storage solutions. This can help you avoid taking up valuable floor space with storage units and create a more open and spacious feel in the office. Additionally, you can explore multi-functional furniture options, such as desks with built-in storage or filing cabinets that double as room dividers.
Construction
Find an experienced construction team
Finding an experienced and reliable construction team is crucial for a successful office fitout. Such a team can provide you with valuable advice on how to reduce costs, and effectively manage the various contractors involved in the project to ensure the most efficient and timely completion possible. Make sure to conduct thorough research and choose a team with a proven track record of delivering quality projects on time and within budget.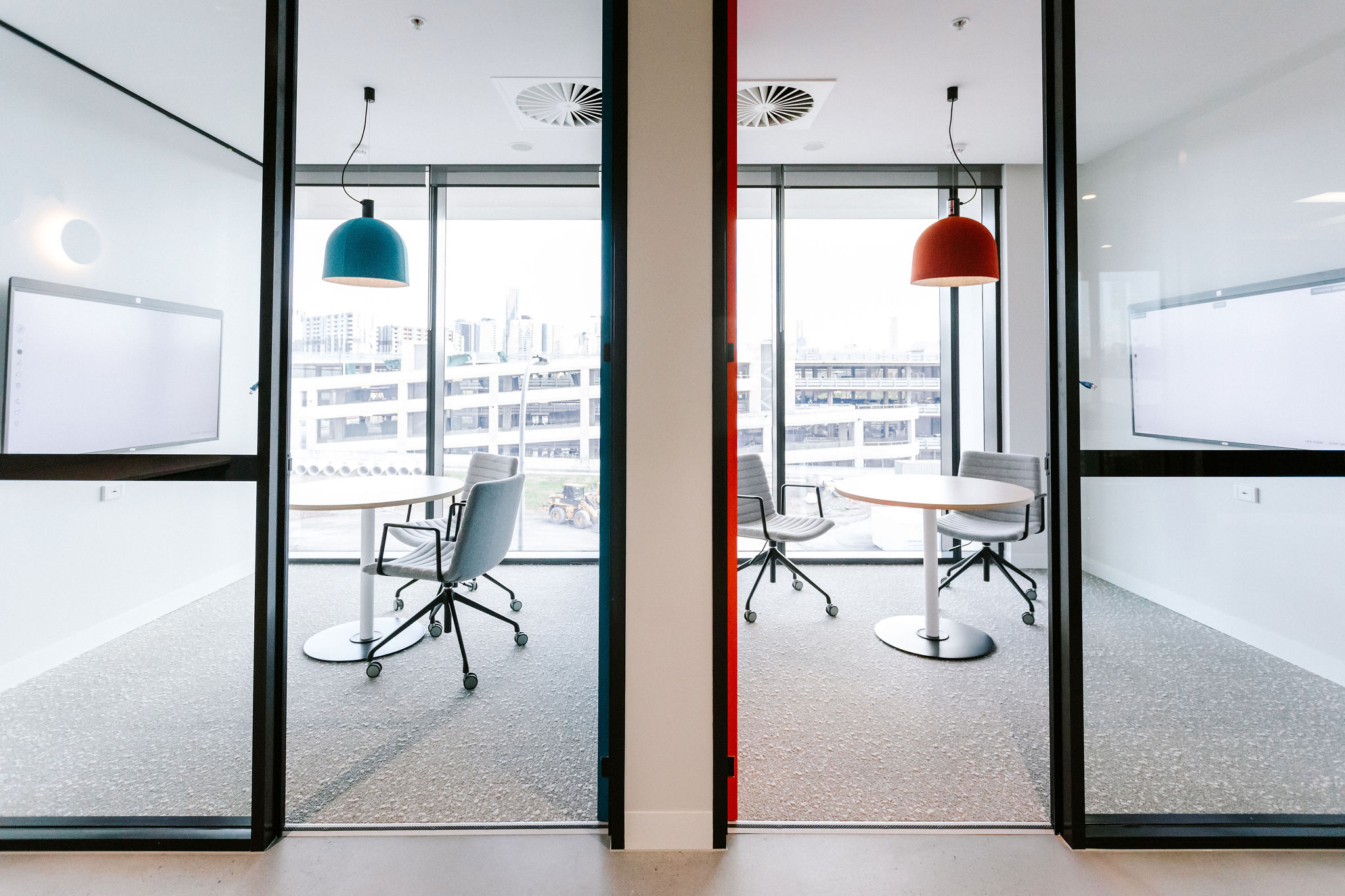 Have smaller meeting rooms
Keeping meeting rooms limited to 5 people or fewer can help reduce the need for supplementary air conditioning or ventilation.
Have one person per every 10sqm+
If the density of people in your office exceeds one person per every 10 square meters, you will need to install more expensive air units to ensure proper air circulation and ventilation.
Don't make changes mid-way through your fitout
The construction team will follow a schedule or program outlining when specific tasks should be completed. Altering the design mid-project may require the removal of already constructed work or the ordering of new materials or parts, resulting in costly delays.
Reuse existing furniture or fixtures
To save on costs, consider reusing furniture and fixtures left by the previous occupants of the office space wherever possible. Additionally, purchasing second-hand furniture is a cost-effective option that can help you stay within your budget.
Install energy-efficient lighting and appliance
You can significantly reduce your electricity costs over the duration of your lease by selecting energy-efficient lighting and appliances that consume less power, resulting in savings that can amount to thousands of dollars.
Final tip!
Moving to a new office can be an incredibly stressful and busy time, so it's important not to overlook the task of booking removalists for your previous office if you're moving out. This will help ensure a smooth and efficient move and prevent any last-minute headaches.
Your next step
If you're looking for assistance with any aspect of your office move, whether it's finding a suitable office space, planning your office design, or fitting out your new office, our team at TACTIC is here to help. We offer a complimentary consultation to assess your needs and provide expert guidance on how we can help you achieve your goals. Please don't hesitate to contact us for more information.